Boost up to 2x Sales on Walmart
This is how Optiwise.ai, a data-driven Al-based platform, is helping brands replicate their Amazon success on Walmart and increase revenue up to 2X.
Challenge
The customer had a trendy lifestyle brand that offers a wide range of high-quality clothes and footwear options for men, women and children of all ages. Using a vast range of products, the company sells to customers all around the globe through Amazon. Even while they were performing well on Amazon, their major problem was not being able to replicate the same success on Walmart, which influenced their growth and presence in the markets.
Solution
Optiwise.ai, a leading eCommerce marketplace optimization product with over 10+ Years of partnership with Walmart, has been helping brands and retailers grow their revenue on Walmart. Based on this customer's goals, Optiwise.ai recommended  the use of a simple three-step automated process that would enable product visibility, Commerce SO and conversion by working rigorously on listing quality score and Commerce organic traffic resulting in an increase in the conversions.
1. Analyze:
The powerful Optiwise.ai analytical functionality did a comprehensive examination of the seller's product catalog and generated an item analysis report. This detailed report included their content health score, customer ratings, buy-box information, issues with their content, and much more and also provided recommendations on how to improve the listing quality score
2. Optimize:
Based on the Optiwise.ai recommendations, the customer could create, change and publish enhanced brand content that was more relevant for its customers on Walmart, drive more traffic and increase product visibility and conversions
3. Track:
With Optiwise.ai, the customer was able to monitor all of their product listings with the help of reporting and analytics dashboards and scheduled weekly reports. With this information at their fingertips, the seller had insights into any problems that needed to be addressed to propel their product forward.
Through this automated platform, the seller saw a significant increase in keyword rankings, traffic and sales. There was also a significant cost saving since performing these steps manually would require many man hours compared to the Optiwise.ai automated process.
Result
With Optiwise.ai, the customer uncovered an opportunity to improve the content of their product listings, enhance images, and work on new keyword rankings to drive traffic and push them to page 1. Within just 3 months, Optiwise.ai increased the content score to 86%* and Walmart's listing score to 82%* for the optimized items and 71%* for the full catalog. Since then, the numbers have continued to rise.
*GMV, Units sold as of Jan 1, 2022 – Feb 28, 2022
– Change is calculated from the previous year's data.
*Content score & listing score as of Mar 24, 2022.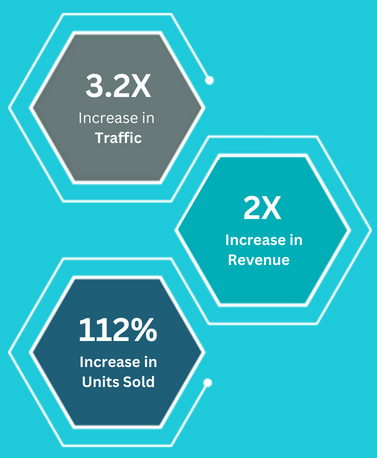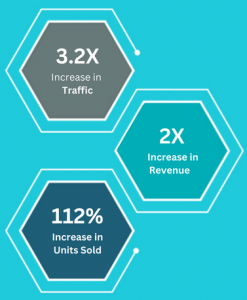 Looking for similar results?