10 Years of
Walmart Partnership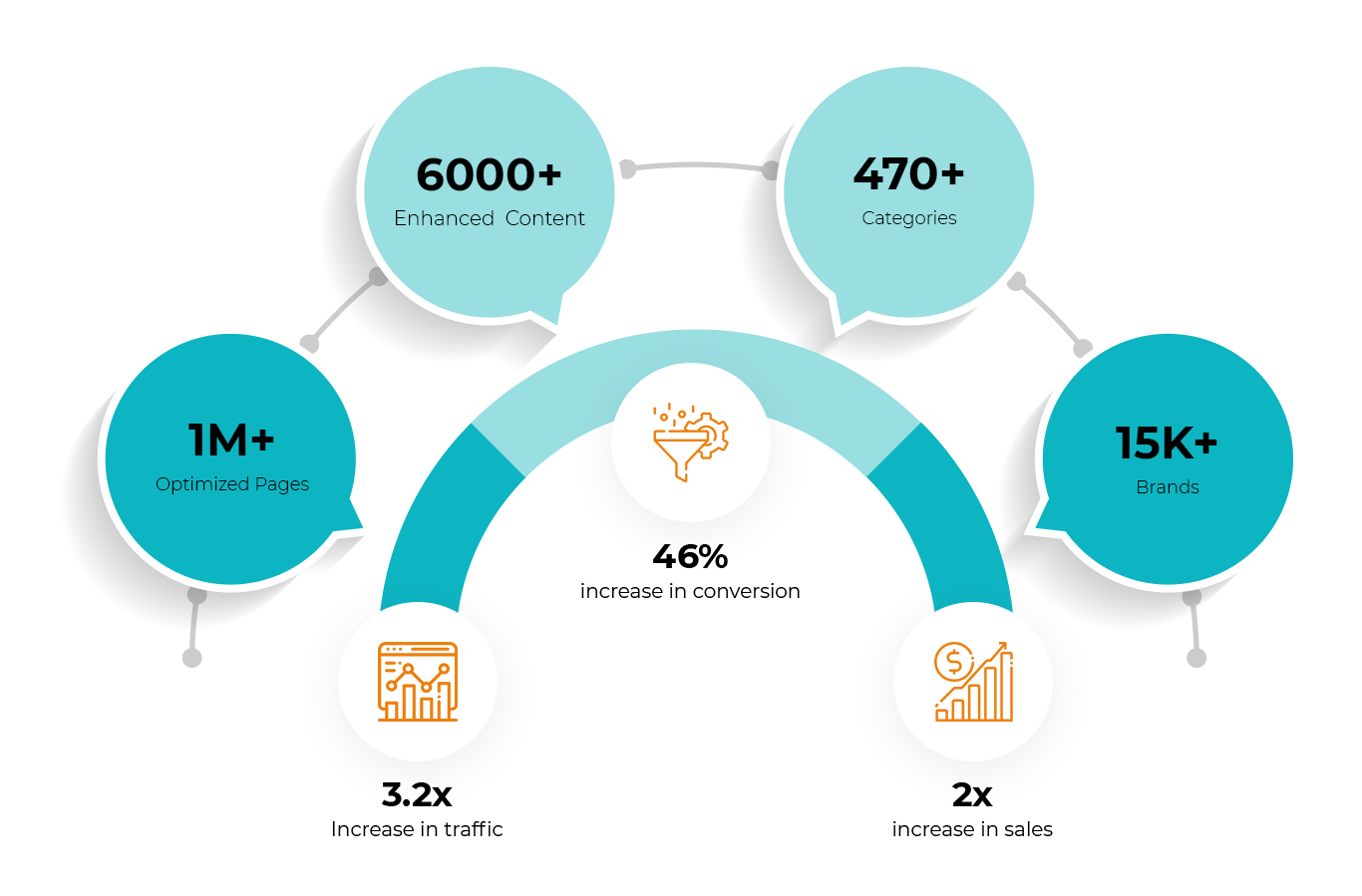 Walmart Provider Spotlight
Introducing a new way to optimize Walmart listings with Optiwise.ai – a data-driven AI-based platform by Optiwise.ai Inc
Over the recent years, Walmart.com continues to grow in popularity – both as a shopping destination where customers can find a wide assortment of quality products, and a happening platform for Marketplace sellers where they can expand their presence online and sell with confidence. Joining Walmart Marketplace is a first step in growing your business, next – you should start thinking about growth strategies and ways to make your listings stand out. And as unique as each sales channel can be, so should be your approach to listing and selling products. With data-driven technology like Optiwise.ai, you can differentiate your optimization strategy and make listing improvements that matter for your catalog performance on Walmart.com.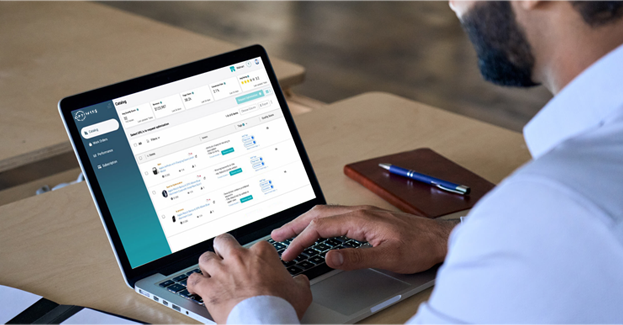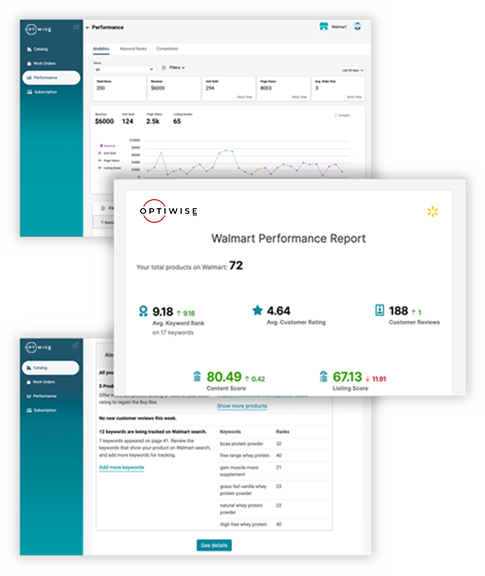 Analyze
Optiwise.ai scans your complete product catalog and generates an item analysis report that identifies issues with your product listings and recommends how to resolve them.
Optimize
After you've identified the key problems, you'll be able to work on them with minimum or no technical skills. Based on the recommendations, you can create, change, and publish enhanced brand content on Walmart.com including relevant keywords infused in the copy itself, self-explanatory images, and en- hanced description' with bullets. Improved content will help increase the relevancy of your listings when customers search for products, and will help drive more traffic and sales.
Track
Optiwise.ai scans your complete product catalog and generates an item analysis report that identifies issues with your product listings and recommends how to resolve them.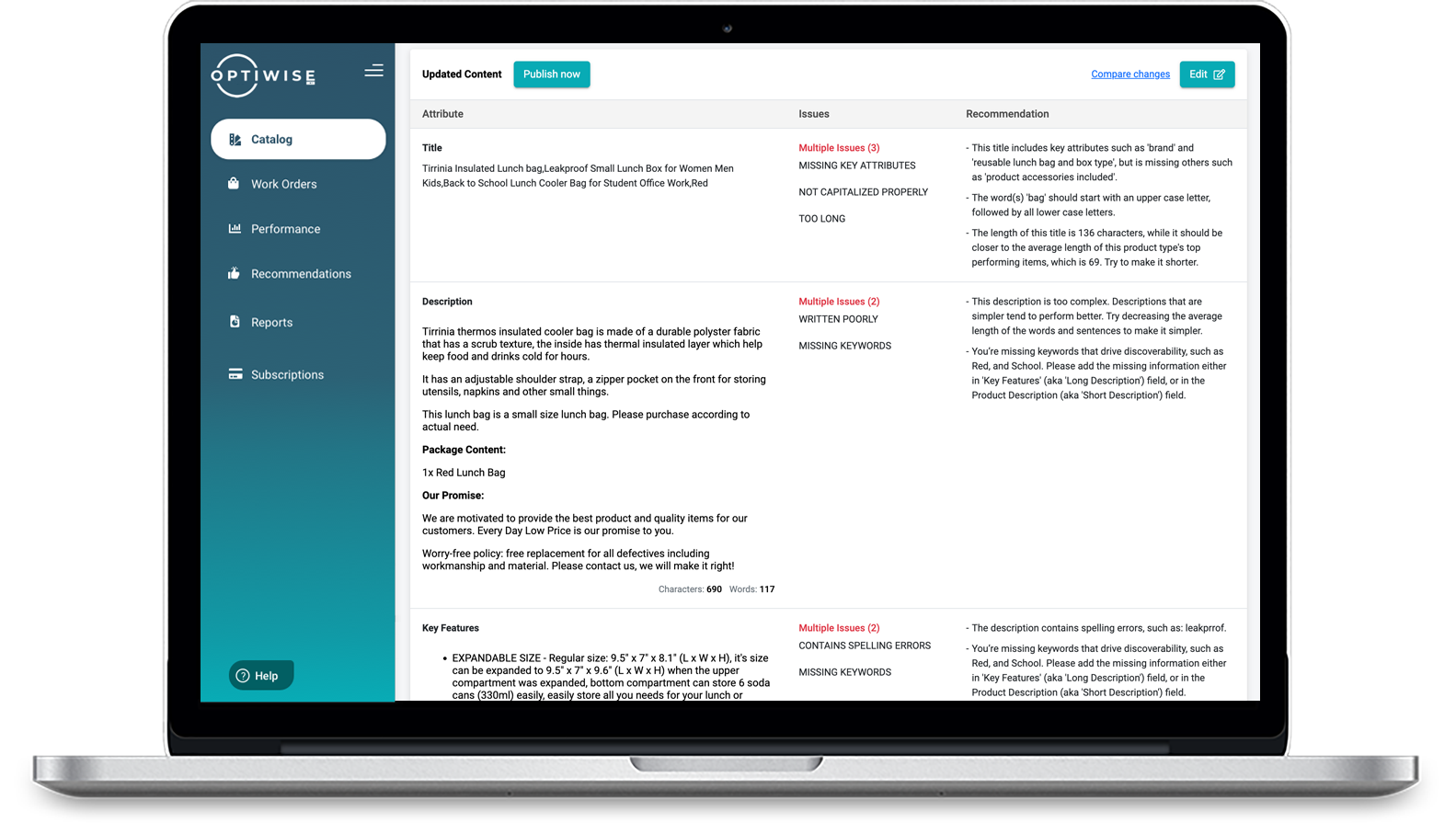 Listing
Optimization
It's now even simpler to add new product content. The platform directs the writing process for the title, description, and features, and flags any difficulties that may arise under marketplace criteria and generating revenues.
Optiwise.ai also assists with content development to ensure that you use search engine optimized keywords for your product so that you always stay on top of the searches.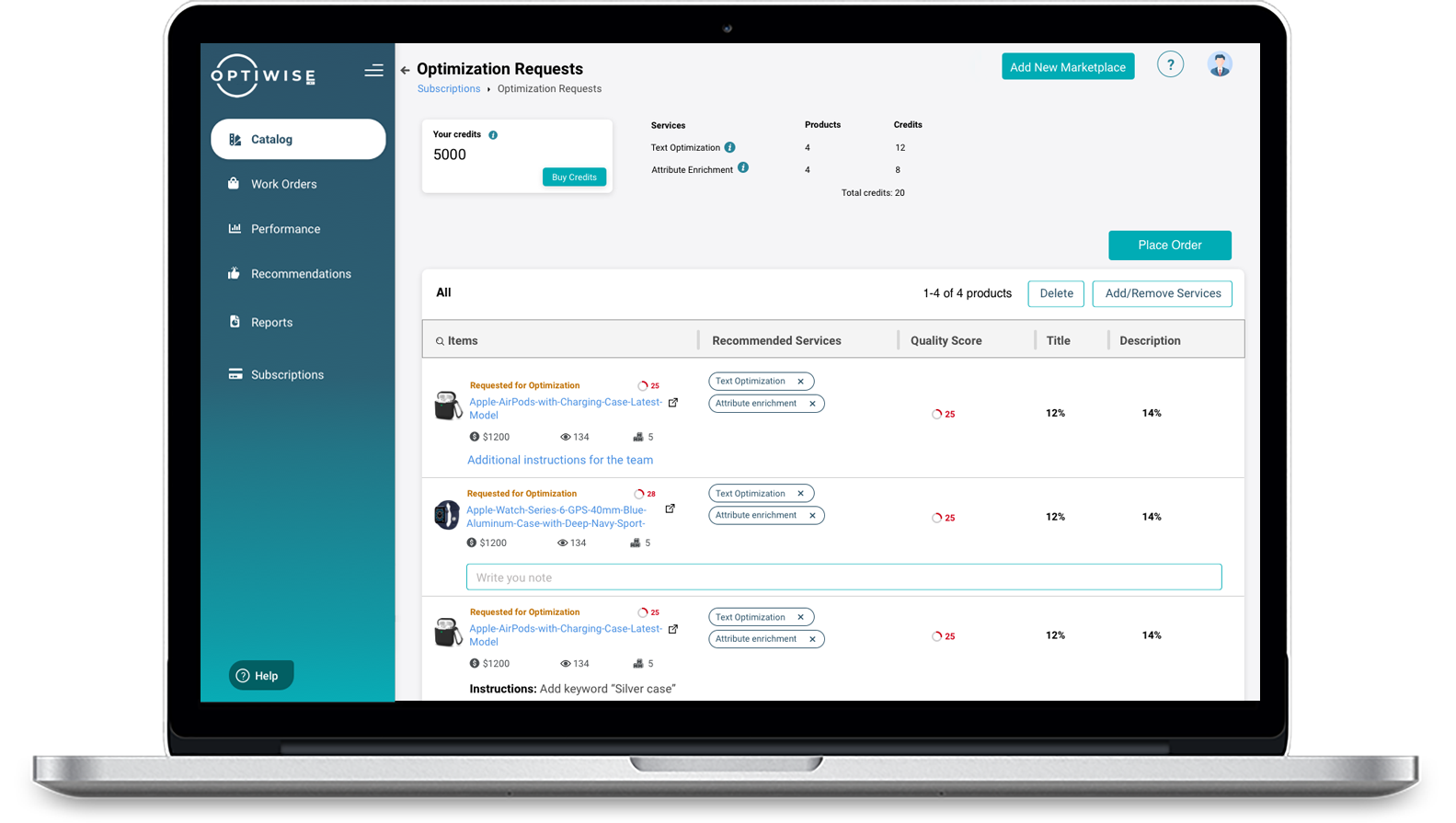 Content
Enrichment
Producing high-quality content enables you to attract more visitors, reduce bounce rates, and increase conversions. Content health scores assess the content's quality against the Walmart standard in order to enhance discoverability and fully use Walmart's search algorithm, hence boosting the likelihood of a conversion.
Optiwise.ai monitors the product's content and notifies you if it detects a decline in keyword rank. In short, you get a qualitative assessment of how well your content performs in search, generates traffic, engages your audience, and converts sales.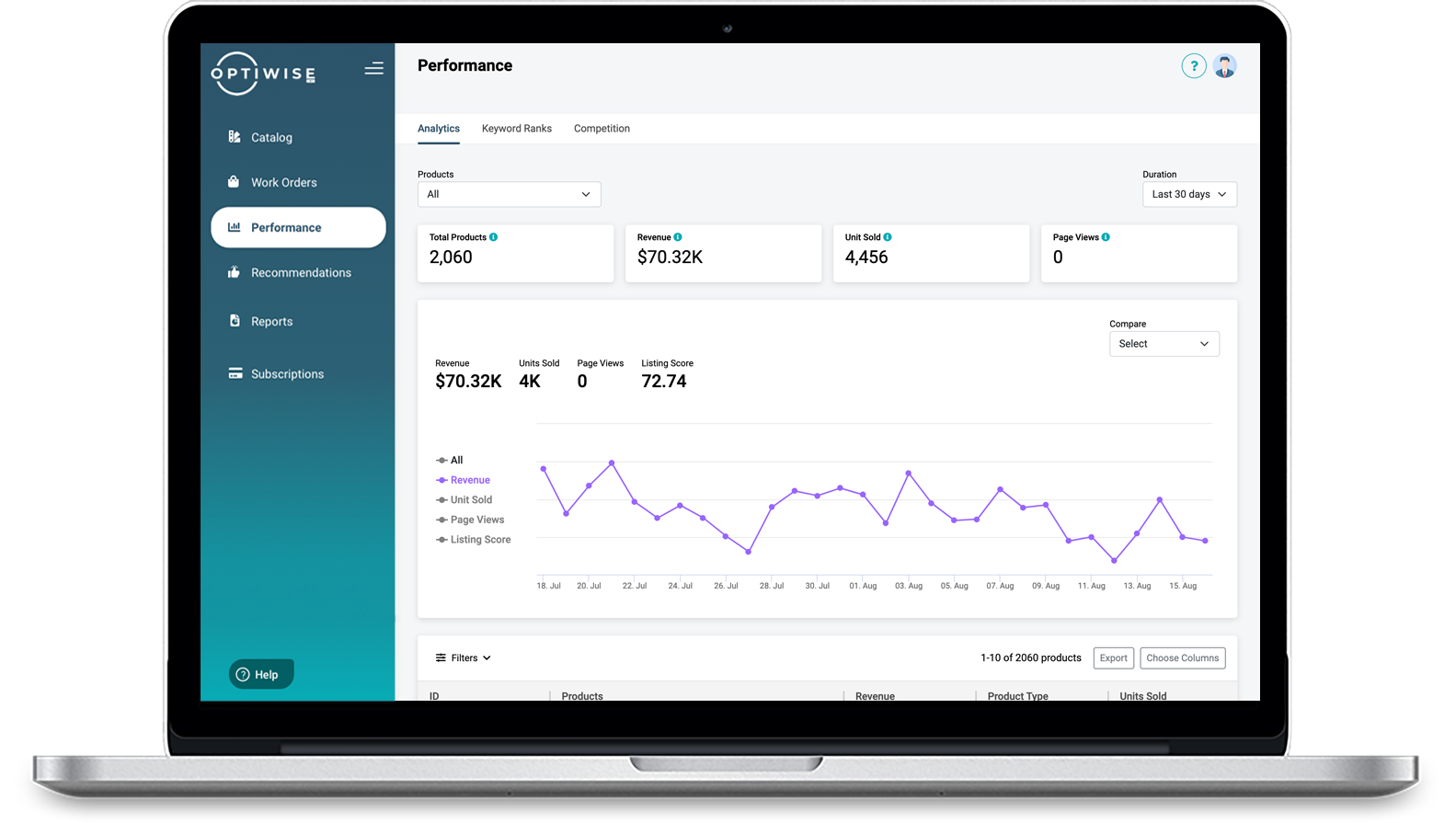 Performance
Analysis
With Optiwise.ai, you get periodic performance analysis of your products on Walmart, both long term and short term, that is found to be extremely valuable. With early warnings of the poor performance of your products listed on Walmart, you can avoid disastrous failure and a quick return on your investment.
This is one of the key features of Optiwise.ai that multiplies process efficiency.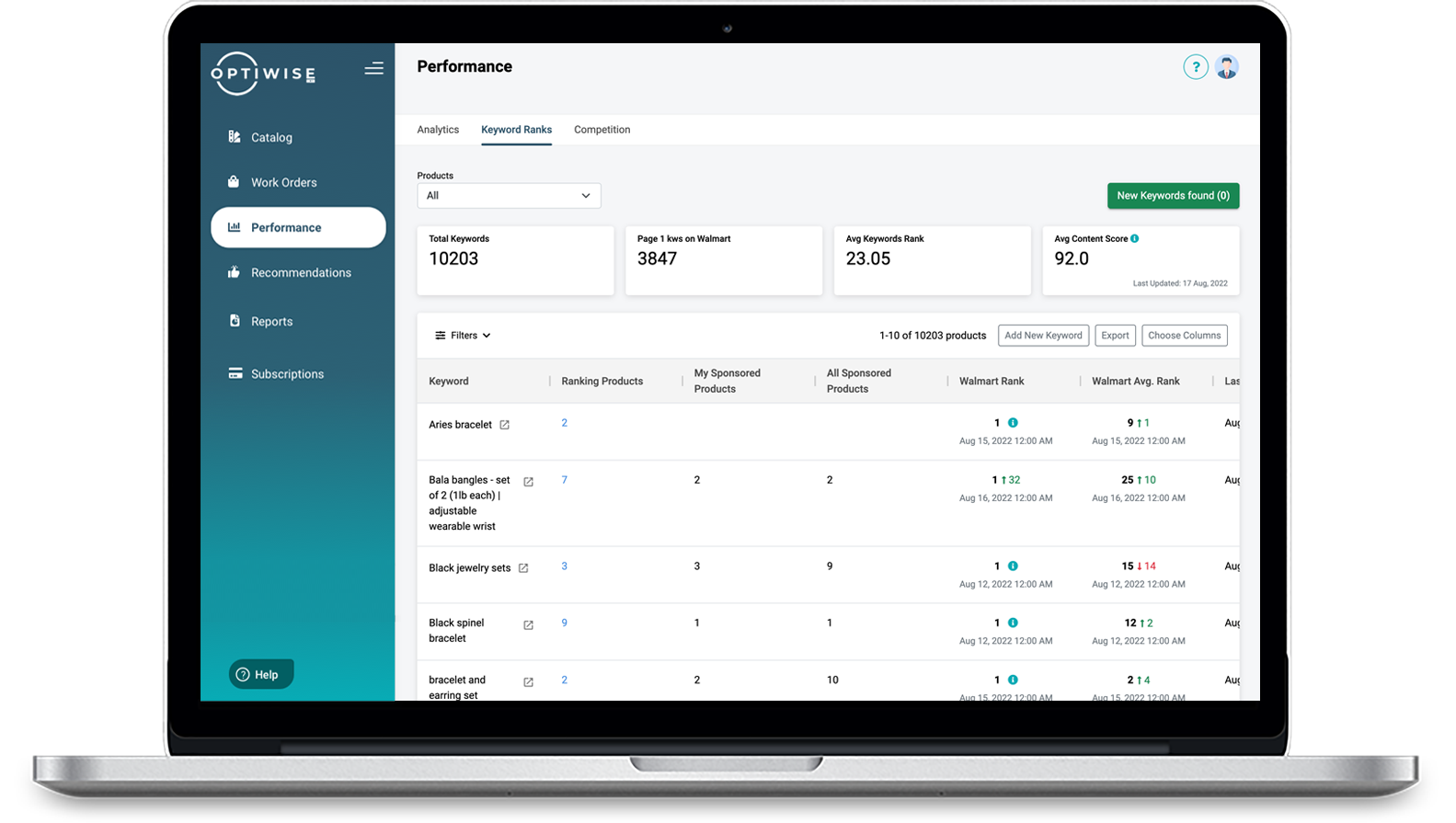 Search Rank
Tracking
Tracking keyword rankings with a reliable search rank tracking tool is the most important for analyzing SEO performance, such as the influence of content and link modifications on your site's ranks over time.
With Optiwise.ai, you can track keyword positions on a weekly and even daily basis, making it the best-value AI-based software for monitoring and reporting on keyword rankings in search engine result pages (SERPs).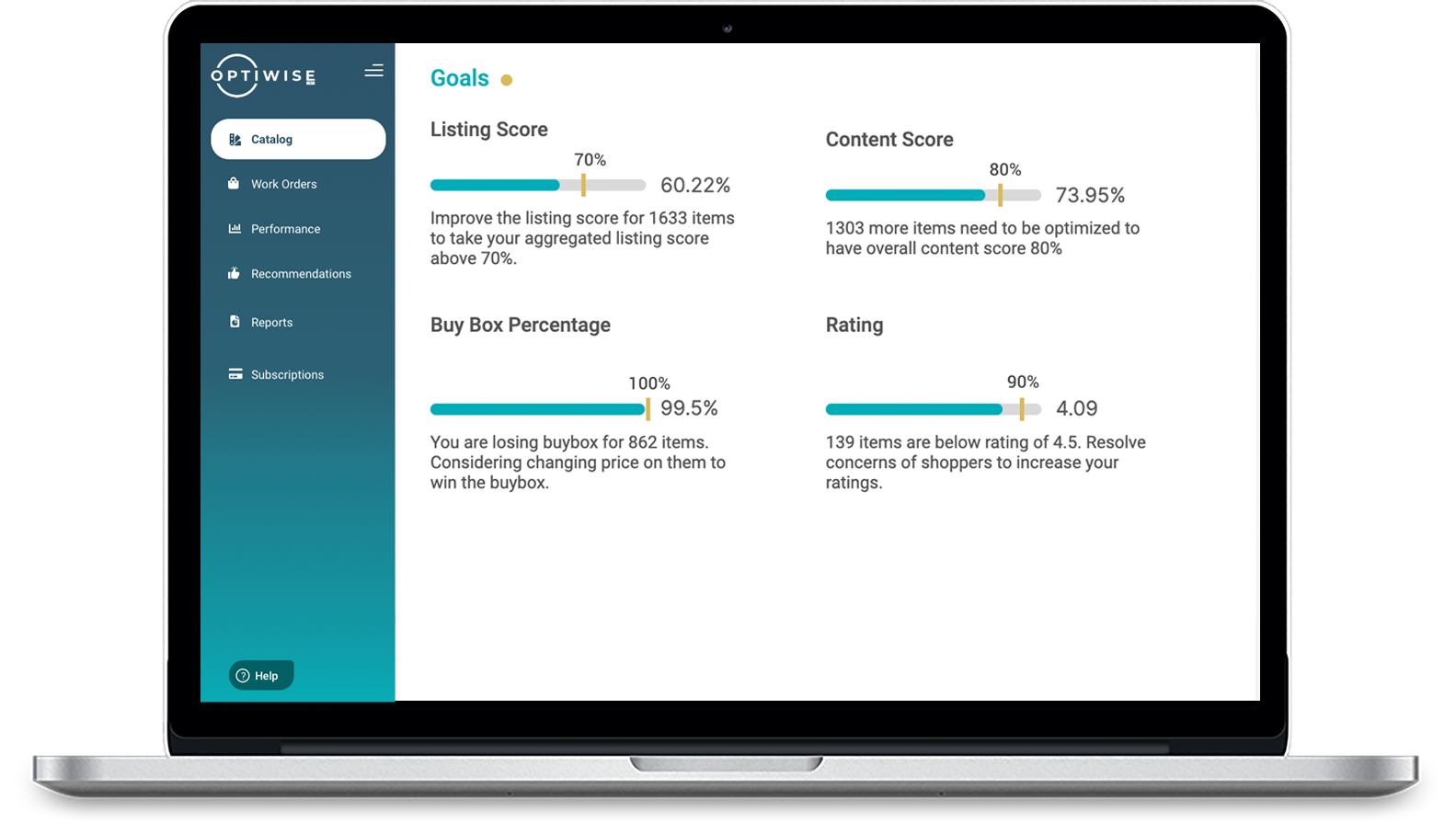 Growth
Opportunities
They argue that if anything can be measured, it can be improved. It's the same with Walmart product listings and optimization. Measuring and refining the effect of your work is crucial to your products' performance, customer retention, and perceived value. Optiwise.ai keeps track of everything, from rankings and conversions to broken links and more.
Additionally, it enables you to realign your priorities when something isn't working.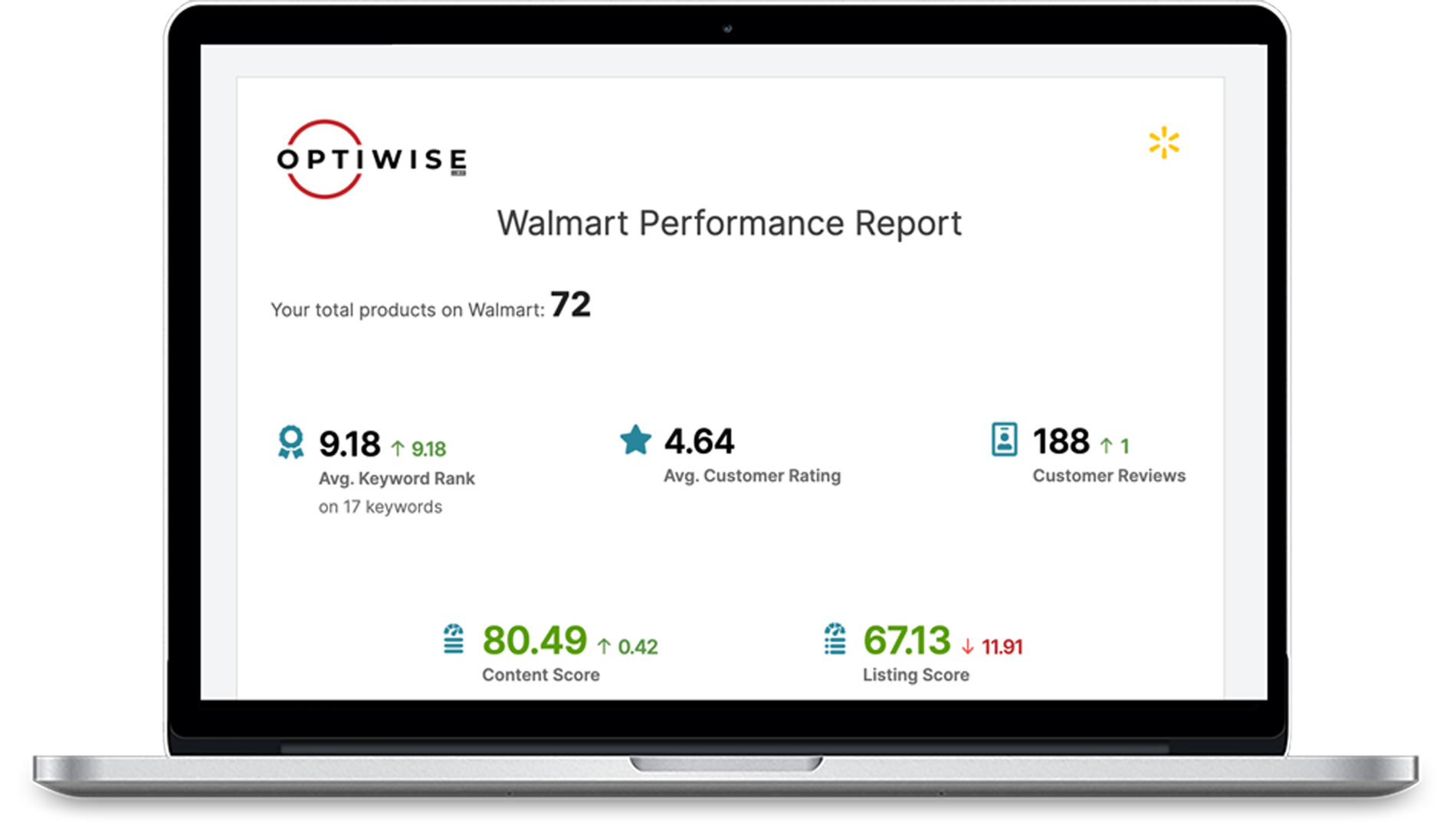 Success
Reports
Keep an eye on the progress of your Walmart listing with our handy and groundbreaking success reports.
From keyword rankings, conversion rate, organic traffic, to ROI from SEO traffic, Optiwise.ai will give you a consolidated detailed report of everything you need to know in terms of growth of your business on Walmart.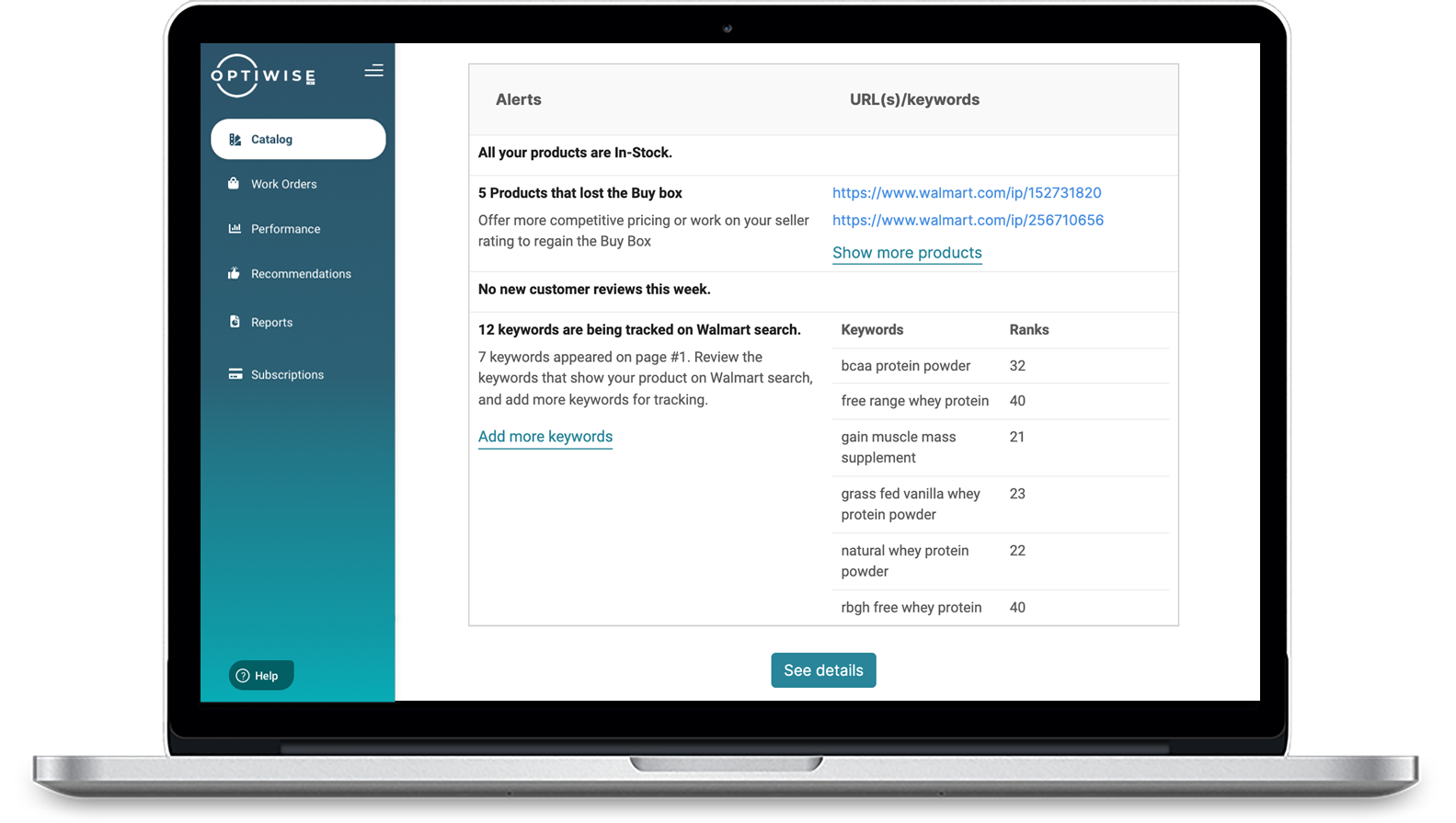 Alerts &
Notification
Never miss a critical alert.
Stay in control of all development and operational incidents on the backend.
Notify the relevant people and significantly reduce response times. This guarantees key issues are never ignored and that the appropriate actions are performed quickly.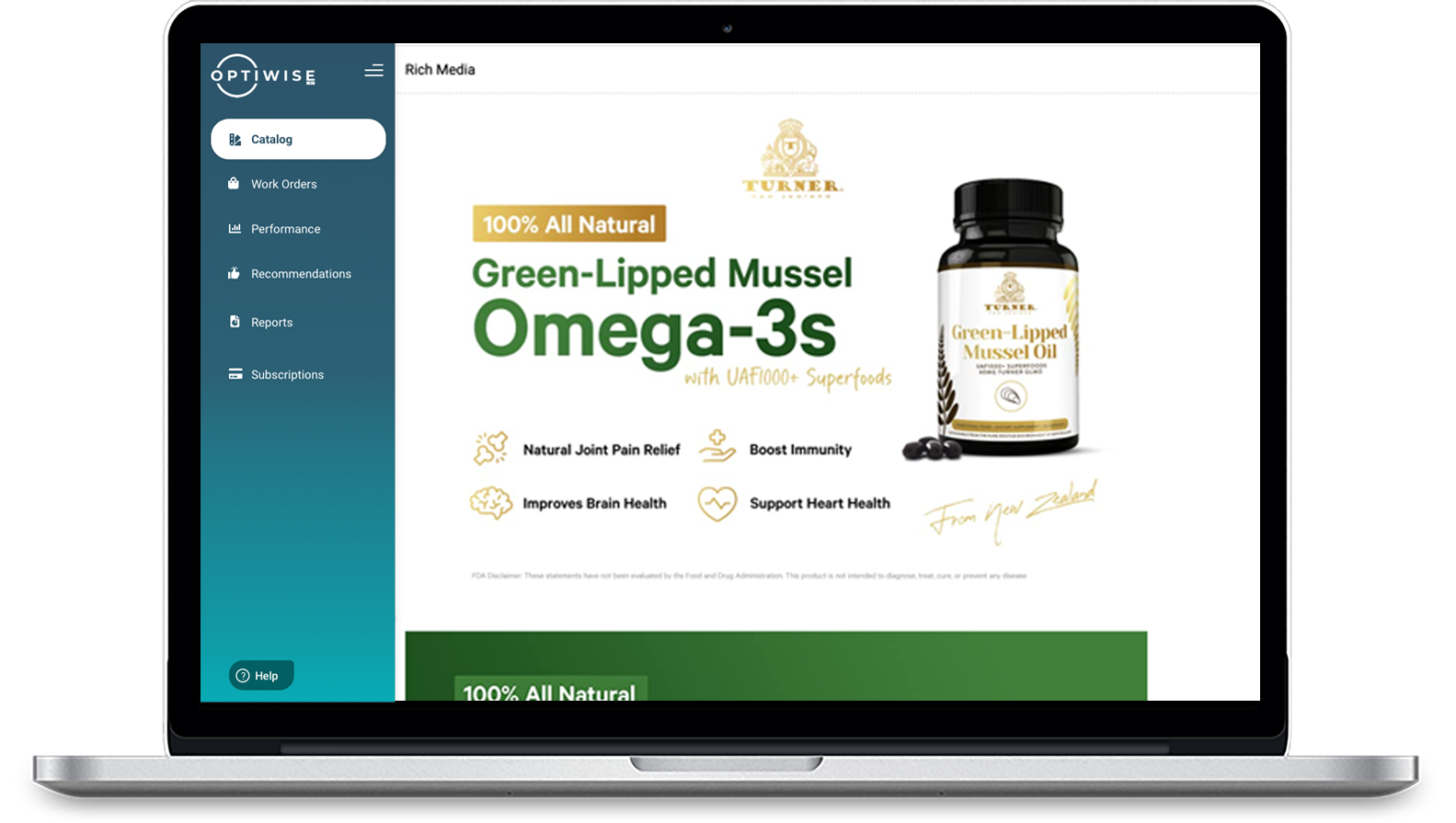 Rich
Media
Optiwise.ai data-driven technology enables you to generate, import and update rich media content for Walmart customized for your brand.
There's no reason you should have to negotiate a convoluted backend marketplace content management system. When the product material is complete, the platform instantly publishes it to Walmart with the press of a button.
Previous
Next
Success Story
Boost 2.1x Sales on Walmart
With Optiwise.ai's analyzing feature, we uncovered an opportunity to improve the content of the product listings, enhance images, work on new keyword rankings to drive traffic and push them to page 1. Within just 3 months, we increased the content score to 86% and Walmart's listing score to 82% for the optimized items and 71% for the full catalog. Since then, the numbers have continued to rise.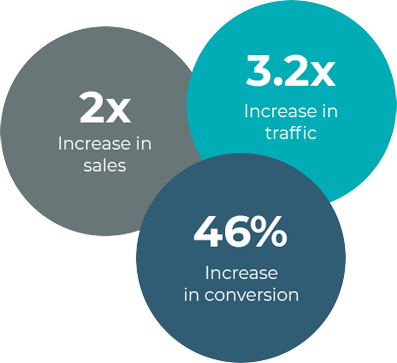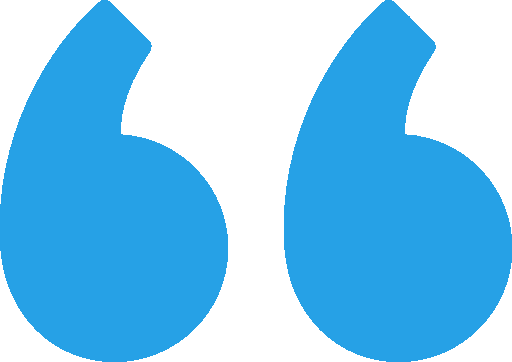 eZdia (now Optiwise.ai) helps us uncover content problems and quickly optimize it for shopper experience and Search Engines. This is hard to do with our large assortment of products.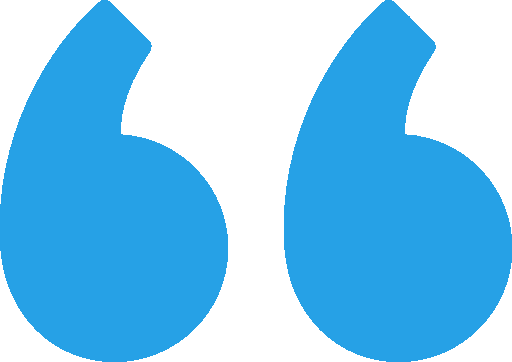 *****
Cody Leovic
Site Analytics & Digital Marketing Lead
Walmart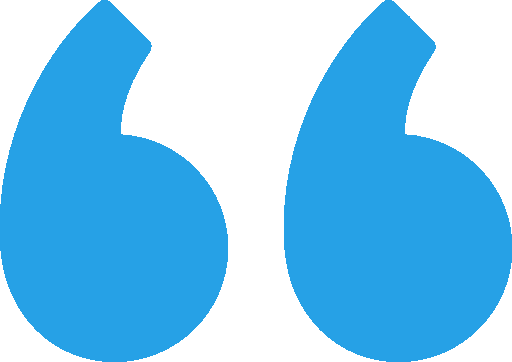 The team at eZdia (now Optiwise.ai) are great to work with and are a true partner for us. Their focus is on what matters most to me, driving more revenue. Proving the Return on Content Spend of our program has enabled us to continue scaling content for our site as we grow.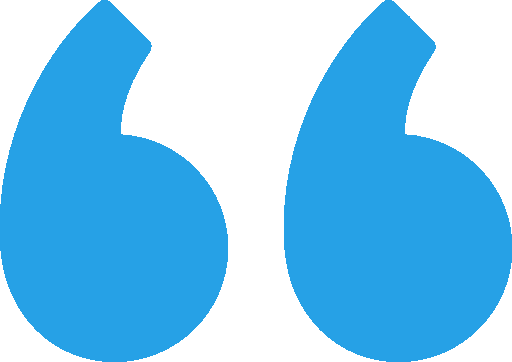 *****
Andy Conway
E-Commerce Marketing Director
MarketLab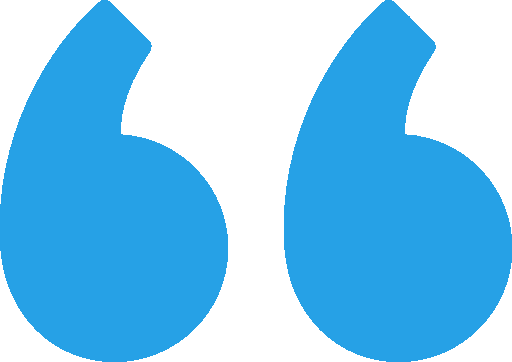 I've had the pleasure of working with the eZdia (now Optiwise.ai) team in managing my Walmart account. I am impressed with their quick turnaround time, always delivering on time. They were able to update my listings in less than a week. Additionally, I appreciated their expertise in providing expert guidance to optimize my listings according to Walmart's algorithms. I know this will lead to increased sales performance. Their customer service response is quick and responsive. Highly recommend.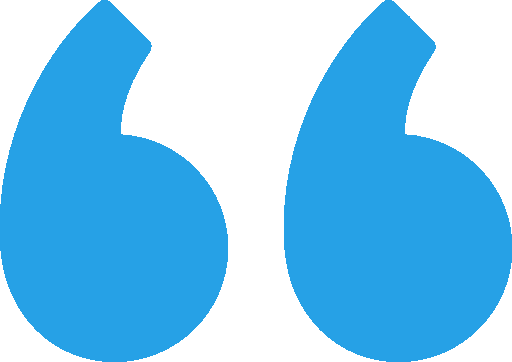 *****
Gerti Morell
Director of Marketing
Plymouth Healthcare Products LLC
Promotions and offers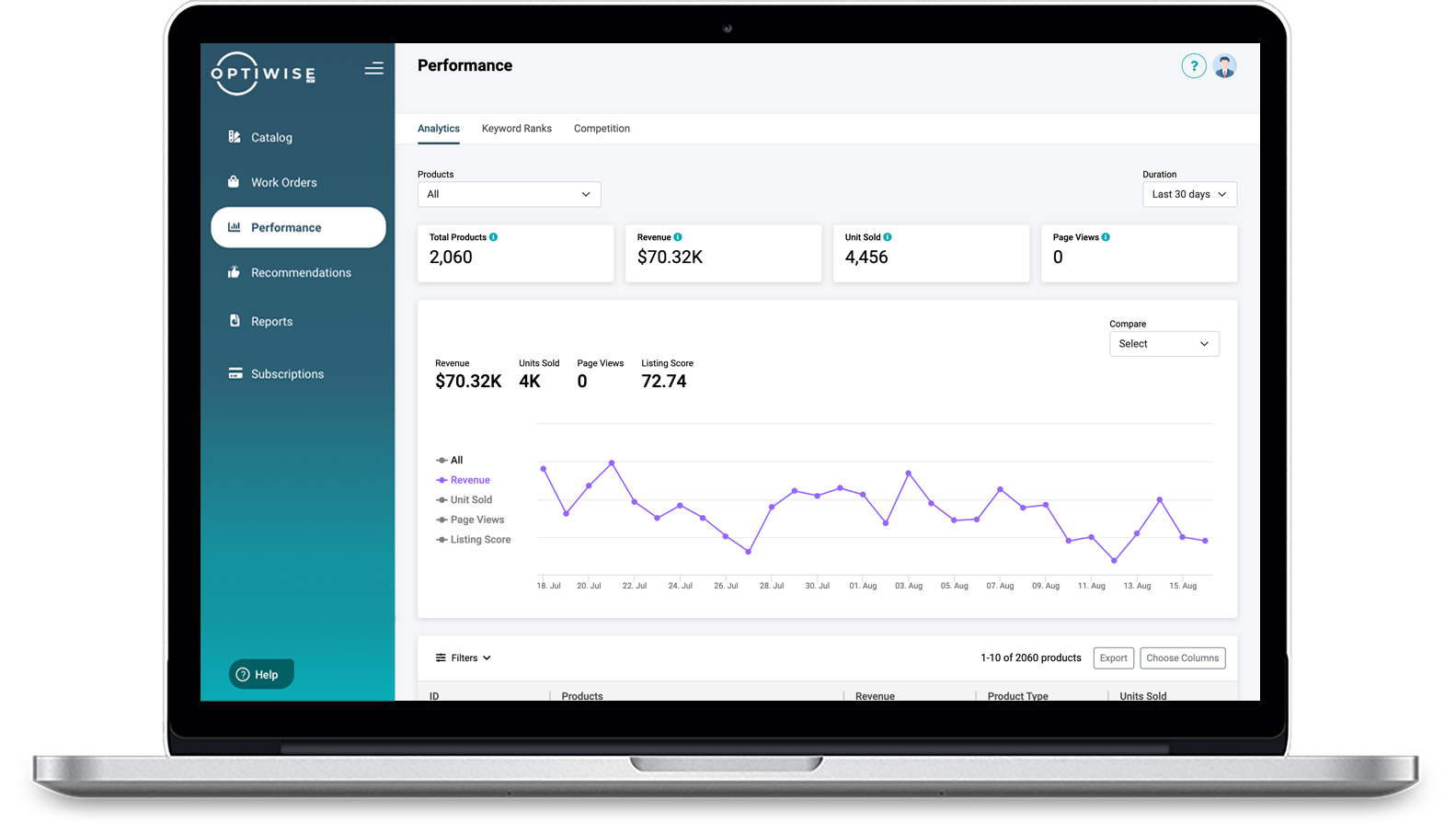 Product Listing and Analysis Report
Click Here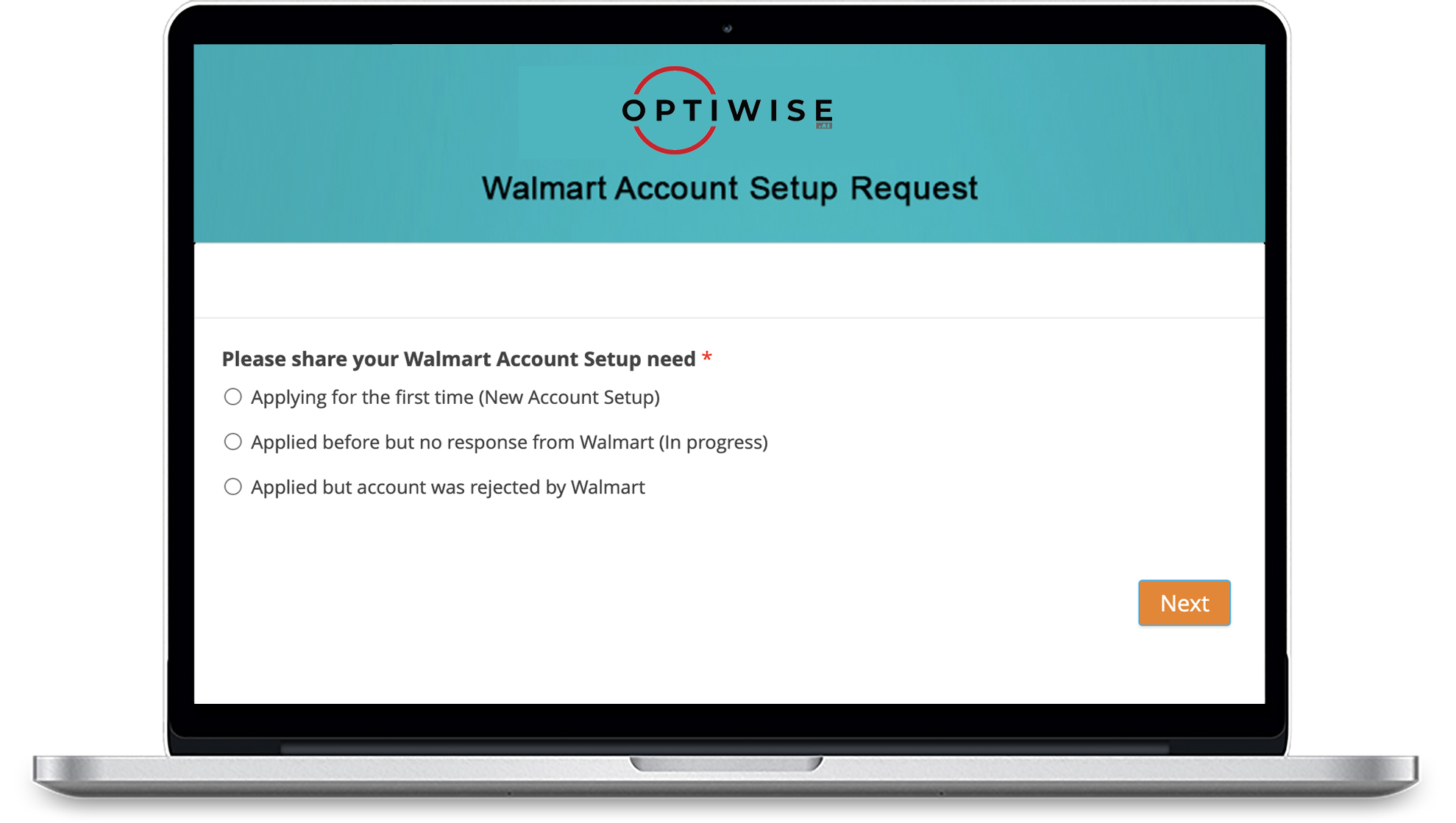 Walmart Account Setup Pre-Qualification Form
Click Here
Boost your sales on Walmart