Drive 2.5x Revenue Growth on Walmart through Rich Media (A+ Content/ BTF)
This is how Optiwise.ai helped one of its customers boost their revenue by 2.5x using product listing optimization and Rich Media, also called A+ Content, BTF, Enhanced Brand Content (EBC).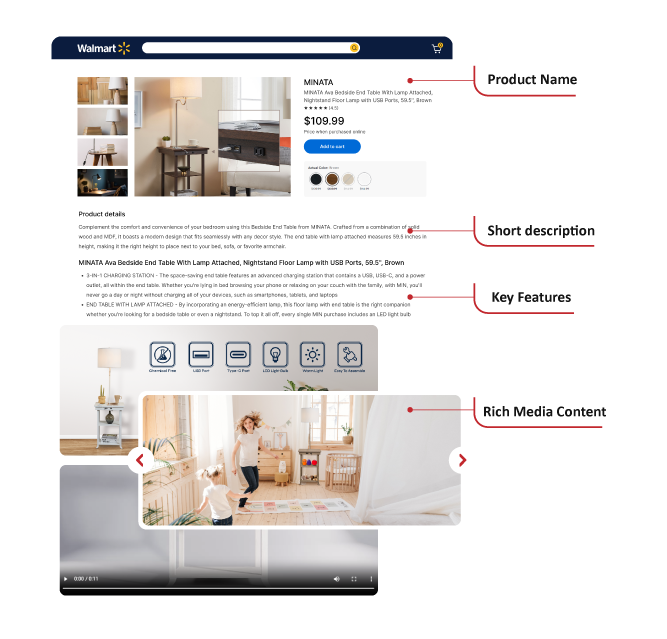 Challenge:
The customer had a Bed Linen brand that specializes in high-quality bed linens chosen from a versatile range of fabrics and designs. With a global customer base, they sell their products through leading e-commerce platforms such as Amazon and Walmart. However, despite their presence on Walmart, they faced challenges with low-performing product listings which in turn were failing to generate adequate visibility and engagement on the search page, hindering their ability to attract potential customers and drive conversions. Thus, impacting their overall market growth and presence.
Solution
Optiwise.ai adopted a holistic approach leveraging its advanced AI-based platform equipped with personalized growth recommendations, generative AI capabilities, and comprehensive performance analysis.
The primary objectives were to target high-performing keywords to generate traffic and incorporate compelling elements into the product listings for high customer engagement. We implemented the following strategies:
1. Product Listing Optimization:
By utilizing Optiwise.ai's generative AI feature, we rapidly optimized the client's product listings by identifying and incorporating better-performing keywords. This approach enhanced the visibility and relevance of their listings, increasing their chances of appearing in relevant search results.
2. Rich Media (A+ Content/ BTF):
To boost customer engagement and improve listing attractiveness, we integrated enhanced brand elements such as high-quality images, videos, 360-degree product views, and more informative content. This approach created a visually appealing and interactive shopping experience for customers, enhancing their interest and likelihood of making a purchase.
With Optiwise.ai, the customer reused their Brand's A+ content on Amazon to Walmart in a single click.
3. Competitor Analysis:
Using Optiwise.ai's competitor analysis tools, we gained valuable insights into high-converting keywords, market trends, pricing strategies, and product positioning. This information enabled us to refine the client's listing strategies and optimize their competitive advantage.
4. Performance Tracking:
Optiwise.ai offers robust performance tracking to monitor and analyze the client's product listings. This enabled the customer to optimize listings, prices, seasonality effects, etc. and take immediate actions to minimize any negative impact on the bottom line. With the keyword rank tracking tool, the customer was able to observe the impact of optimization and traffic boost on the change in revenue growth.
Result
With Optiwise.ai, the customer uncovered an opportunity to improve their product listing content, incorporate engaging elements, and work on new keyword rankings to drive traffic and push them to page 1.
2.5x Revenue Growth

:




Within just one month, the client experienced a substantial 2.5x boost in revenue on Walmart. The combined impact of optimized product listings, enhanced brand content, and improved keyword rankings drove significant sales growth.

Enhanced Listing Visibility

:




With more than 150 keywords ranking on the product listings, we observed a high organic traffic on the listings. Notably, even products that previously had no rankings observed conversions after gaining visibility on the platform. 

Cost Saving and Efficiency

:

Optiwise.ai's automated processes saved the client valuable time and resources that would have been otherwise spent on manual listing optimization. Instead of spending 90+ minutes on each EBC, the customer was able to reuse its Amazon Brand Assets using Optiwise.ai which happened in less than 1 min for them, making it 100x faster than the usual process. 
The client's market presence and bottom line have continued to grow since the implementation of our solution, reinforcing their position as a thriving player in the competitive eCommerce landscape.
*Revenue results are based on data as of April 29, 2023.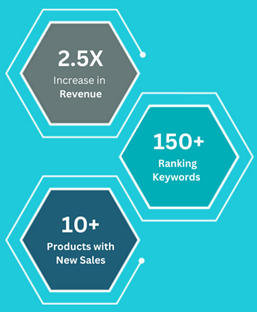 Looking for similar results?