Before we tell you how to set up a Walmart account, let's take you through why you need to create one such account. Well, there is no denying the fact that Walmart is a vast and varied marketplace that is in direct competition to Amazon now since the time they have started accepting third-party ecommerce sellers. So, there are a lot of opportunities for sellers to reach potential buyers once they set up shop on the Walmart marketplace. Just like Amazon and eBay, your brand would be able to place its products in front of a massive audience. Therefore, it is critical to have a Walmart business account in place to drive sales and thrive in the online retail market.
Now, here are the simple steps to create Walmart account and becoming a seller:
Step 1: Walmart Account Sign Up or the Application Process

First things first, get on Walmart's Marketplace website, click on Request to Sell and fill in the required fields.
Now, to fill in the form, you will need to have the following things in place.
A US-based storage facility with a US Tax ID and a US-based Business Bank Account.
Ship orders and receive returns from a warehouse located in the US.
An excellent performance record in the US marketplace for at least one year.
There is a strong focus on providing excellent customer service while offering a wide range of compelling products at competitive prices.
Each SKU should have a unique UPC or GTIN code.
It is also important to note that Walmart only responds to applications that are fully accepted, which means that the majority of brands are usually unclear of the status of their application. This is why it is critical to take a more systematic approach and select a service provider who can fully assist you with the application process.
Once approved, you will receive an email for a Walmart seller account.
Step 2: Registration
You will now follow the unique link in your email to create your profile. The Registration Wizard will walk you through five main sections: Account Creation, Partner Registration, Taxes (W-9), and Shipping Info.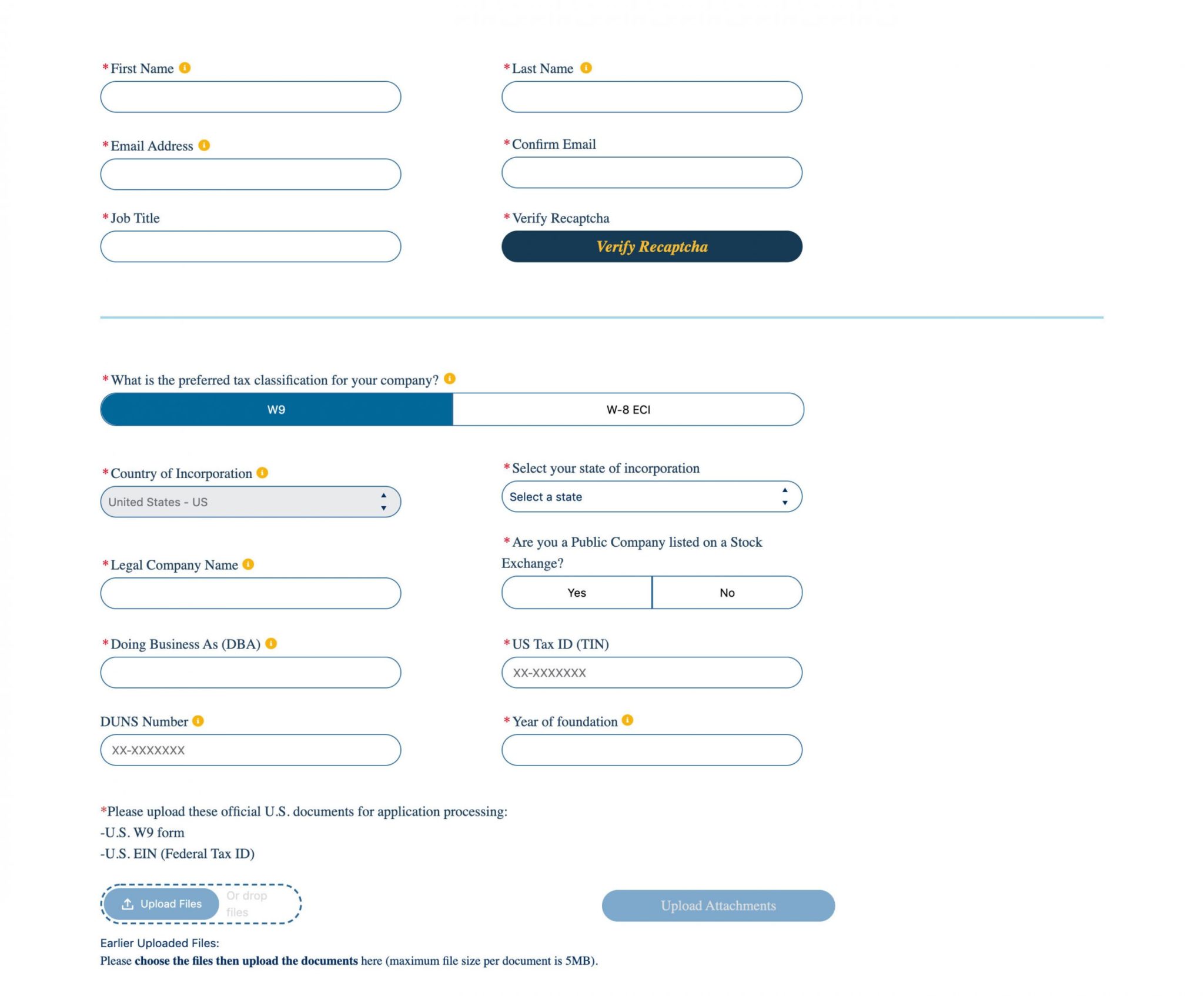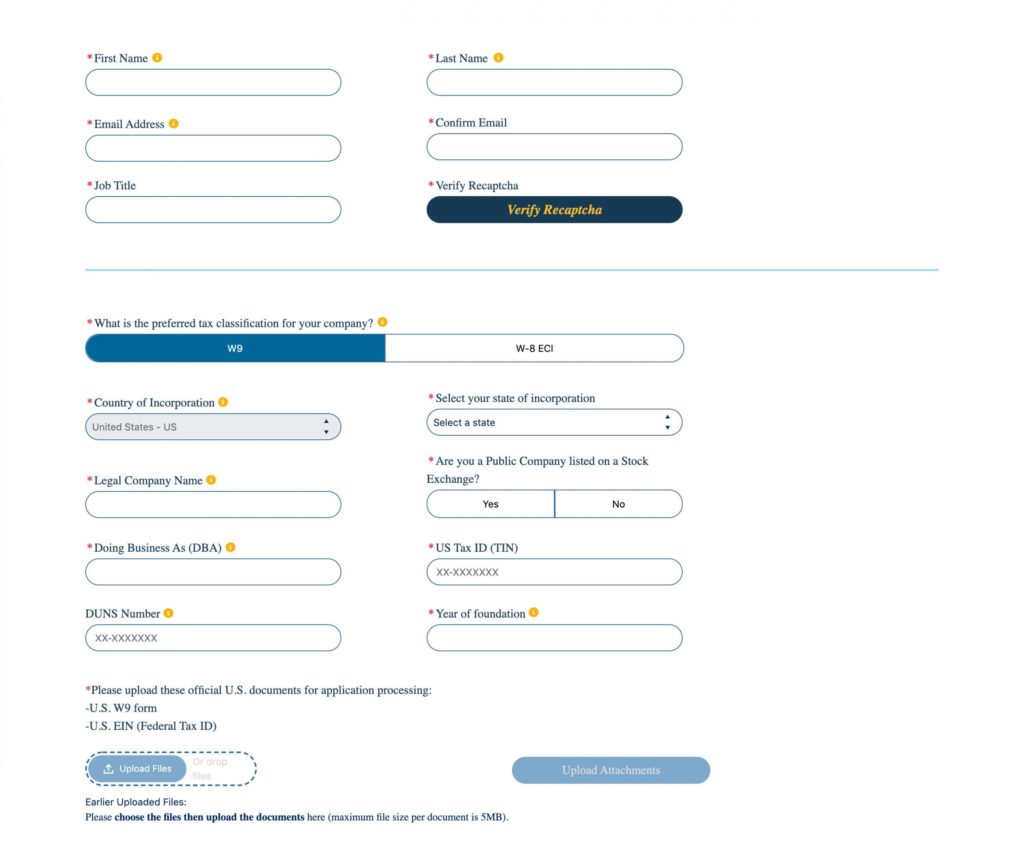 Step 3: Partner Profile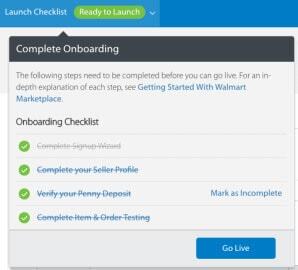 Now that you have created your Partner Profile, you will have access to the Seller Center. Here, you'll find a "Launch Checklist" that outlines the next several requirements before you can launch your account.
The first item on your list is to complete your Partner Profile. Your Partner Profile is a public page where customers will be able to learn more about you (including your company name, description, logo, company policies, tax information, and more).
As you complete your Partner Profile, the progress bar will reach 100%, and the step will be automatically crossed off in the Launch Checklist.


Step 4: Item Setup
Walmart marketplace item setup is the most time consuming part of the process, as you'd expect given that this is where you enter all of your content (pictures, video, long and short descriptions, attributes, etc) for which you might require the help of professionals. "Validate Fields" must be clicked after all required fields have been filled out. Upload your file to the Seller Center after making any necessary corrections to the high-lighted fields. Your Seller Center's items will be promoted to Active status once the process is complete.
Step 5: Test Items and Orders
Verify the content and pricing of any Active products in the Seller Center by selecting "Preview Item". Since your customers will see this, make sure everything is in order.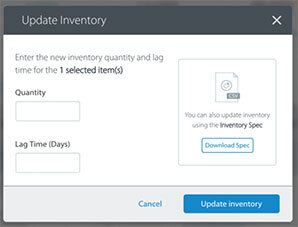 Step 6: Launch Your Walmart Business Account
Launching your Walmart business account is the last step in the selling process. When all the items on your Walmart Launch Checklist in Seller Center have been "marked as done," a pop-up message will appear asking you to confirm that you are ready to launch. When you click "confirm," a launch request will be sent to the server.
Your profile will be reviewed by the Walmart Marketplace integration team, and if all goes well, your products will be available on Walmart.com within 24 hours.
If you want things professional, buy Walmart Account Setup Services at Optiwise.ai where we have expert account managers with detailed knowledge of how Walmart actually works.
Image Reference : – Walmart Marketplace