*Upload unlimited Rich media until May 31 2023 at no cost
*Get 5 Rich media free for one year after May 31 2023
Given the growing use of mobile devices and online ordering systems, it's no wonder that Walmart has introduced a platform for rich media content. As e-commerce sales have become essential for businesses of all sizes, Walmart's Rich Media API tool provides a means for users to enhance their existing content. This tool is accessible to content providers, drop-ship vendors, and warehouse suppliers, enabling sellers to incorporate a variety of media types into their pages.
Videos
360-degree views of products
PDFs
Interactive tours
Brand story layouts
Mobile responsive rich media pages are a must, as most purchases online are now made via smartphone or tablet.
Why Build a Walmart Rich Media Page?
Although not all sellers may consider a rich media page as necessary, the prevalence of rich media in e-commerce is backed by solid reasons. Studies indicate that integrating rich media on seller pages can boost online sales by 10% or more. By incorporating videos, PDFs, and 360-degree product views, sellers can improve their content quality, attract more customers, and accelerate sales growth, considering that visual communications make up about 84% of all communication.
It's in the Numbers
Using visual influencers like product videos can increase the likelihood of a purchase by 85%. Rich media pages enhance the customer's experience, adding authenticity and human connection. To achieve success in e-commerce, it's essential to have SEO-driven marketing content that helps rank higher in search engine results. Optiwise.ai offers bespoke SEO and content strategies that cater to each client's unique needs and target audience, ensuring the use of effective keywords that drive online sales. Additionally, their team can help migrate rich media pages between platforms like Amazon and Walmart.
Combining a Walmart Rich Media page with strong SEO content and marketing is highly beneficial for sellers. Rich media content, especially visual data, can draw customer attention and lead to an estimated engagement rate increase of 5.7% across vertices, according to Business Insider. By providing an enriched experience for customers, Walmart Rich Media pages can help sellers form a personal relationship with their audience, leading to increased sales.
How to Create a Walmart Rich Media Page
As mentioned earlier, in order to create a Walmart Rich Media page, content providers can take advantage of the Rich Media API tools offered by Walmart. However, if sellers wish to create the page on their own, they would need to possess a working knowledge of computer coding and content development. Alternatively, they could use a compatible template and engage the services of an eCommerce content agency with omnichannel experience, such as Optiwise.ai.
1. Get Image Specs Right
Walmart has strict guidelines for photos, and all product images need to meet the following specifications:
Minimum image size for zoom capability: 1000 x 1000 for most images, 1500 x 2000 for fashion category, 100 x 100 for swatch images
Recommended size: 2000 x 2000 or higher
Aspect ratio: (1:1) square in most categories, (3:4) portrait in fashion category
PPI: 300ppi for most images, 72ppi for swatch images
Note that image should be at least 1000px in either width or height so that customers can zoom into pictures
Maximum file size: 5MB
Acceptable formats: JPEG (.JPEG/.JPG), PNG (.png) or BMP
RGB color mode
Image file name must end in an image file type
All listing must have at least two images (recommended four images)
2. Making Customer-Centered Videos and Virtual Tours
When producing rich media videos and virtual tours for e-commerce sites, there are four important factors to consider: engagement, education, quality, and call to action. Engaging the customer involves using visual cues to maintain their attention and interest. For instance, showcase your personal belief in the quality of your product through images or take the viewer through the production process. However, it is important to avoid being too verbose since the average person has an eight-second attention span. Education involves highlighting product features, benefits, and uses, as well as the materials and creation process. You can achieve this by answering the following questions:
What makes your product stand out?
What unique benefits do you offer compared to your competitors?
How can your product meet the customers' needs?
Quality videos don't need to be expensive. You can create high-resolution videos using the tools available on most laptops. Virtual tours showcasing your product line, production process, environmental practices, or company mission can help create a more personalized connection with the customer. Finally, end with a clear and concise call to action. Avoid using exaggerated language like "you absolutely must have this amazing product" or "be the envy of your town with the hottest product on the market." Instead, use active words such as use, create, make, or enjoy to encourage the customer to take action.
3. Using Templates and Tools
In general, using the Rich Media API tool requires skills and expertise in development, and building a media-rich page typically involves more advanced coding than a standard product page. Nevertheless, using templates can offer helpful features that may include one or all of the following.
Rich media
Content tool that works across retailers
Item set up
Content health reports
Above-the-fold content
Tracking for miscellaneous items like pricing or availability
Above-the-fold content is the first content a user sees without having to scroll on the page or jump to another page. It is important that this content grabs the customer's attention and makes them want to browse through the rest of the page. Content health reports will help the seller gain valuable insight into changes that can be made to increase traffic and sales.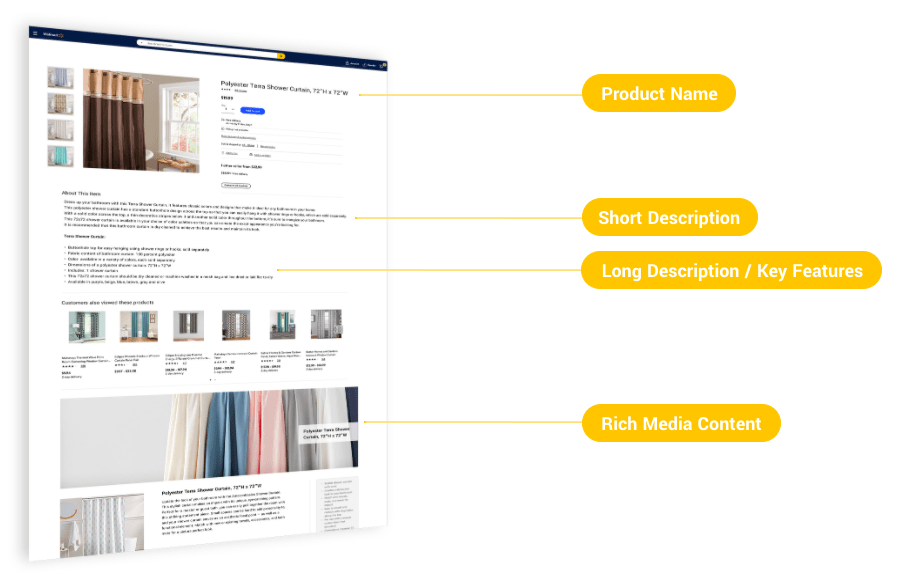 Mistakes to Avoid When Developing Rich Media
When creating Walmart Rich Media pages, it's important to avoid common mistakes that can lead to wasted time and effort. Optiwise.ai provides the necessary expertise and resources to avoid these errors. Some of the most common mistakes we see are:
Using non-unique copy. Even if it's your own copy, Google doesn't like plagiarism, so it's essential to create unique content for each product page.
Creating descriptions that lack substance and fail to communicate the product's benefits to the customer.
Neglecting keyword research. It's important to use relevant, niche keywords (including long-tail keywords) to ensure your product is ranking for the right terms in search.
Not including enough images. Since customers can't physically interact with your product online, including multiple images and 360-degree product tours is essential to provide a clear sense of what the product looks like and how it performs.
Adding rich media modules before providing product information. This can result in the failure of the absorption process, so it's important to provide product information before adding any rich media modules.
How to Get the Most Out of Walmart Rich Media Pages?
To achieve the best possible Walmart Rich Media page, it is recommended to use the information available on the Walmart Developer page to understand what can and cannot be incorporated. It is also important to select a reliable template that can create content that appeals to and retains customers. Ensure that the product is prominently displayed and the descriptions are truthful and informative. To keep the content fresh, use clear images and include product branding wherever possible.
Conclusion
Optiwise.ai offers assistance to brands, sellers, and suppliers who wish to update their product pages on Walmart.com with Rich Media in less than 24 hours. To begin, provide us with the rich media source URL and the Walmart.com URL where you want the content to be published. We will create a proof of how your Walmart.com page(s) will appear with Rich Media, which you can approve or request changes to be made. Your page(s) will be available on Walmart.com within hours of your proof approval, all of which can be completed in under 24 hours.